Vastu for Warehouse - Maximize Warehouse Space and Profit
Working on your business godown can indeed help you rise up!
Vastu is a science in itself. It is a 5,000-year-old ancient Indian system of architecture. According to this ancient Indian tradition, natural forces must be taken into consideration while designing buildings. One of the most important aspects to be considered when designing a building is the Vastu Shastra for a warehouse because it helps in making sure that energy fields in and around a warehouse are balanced properly. Therefore, if any building is not constructed according to Vastu principles, then it will definitely not have auspicious energy over it.
Vastu for Warehouse helps in storing the product in an organized manner, which is very important. This helps in ensuring that there are no losses incurred by the business owner. Keeping Vastu principles in mind while constructing a warehouse can help you attain complete success. According to our Vastu Experts for Warehouse, there are several benefits of implementing Vastu shastra principles while constructing any building or space. Vastu for godown not only helps in designing the warehouse, but it also helps in escalating the business to a great height. Better sales, financial growth, name and fame, and top online ranking are a few benefits of having Vastu for warehouse work done.
How does Vastu for Warehouse work?
Vastu for godown or warehouse is the strategic design and planning of a Vastu for a warehouse that primarily involves the method of utilizing building space, storage methods, and placement of goods. Vastu Shastra is an ancient Indian science based on various beliefs. The five elements such as water, earth, fire, wind, and space, etc. play a major role in this science. A proper and positive balance of elements leads to life according to this science. This ensures the proper growth and development of every living being. There are many other factors such as direction and flow of wind, water bodies, and even climate change, etc., which also decides about the success or failure in the business or personal sector of any individual.
Vastu for warehouses focuses on factors like Sky, Earth, and Water. Sky connects with the economy, location of the car park, number of gates, etc. The Earth factors deal with parking space or compound walls where goods are stocked.
Vastu for the warehouse helps to provide a healthy environment in which the workers can work peacefully without any hindrance or stress. It also improves employee motivation, thereby increasing the production efficiency of the organization. In other words, it helps in maximizing the warehouse space. It helps to bring prosperity and fame among all staff workers, owners, and business partners.
Visiting a good Vastu Consultant for warehouse construction is not the only step in building the warehouse; it is important that you find out whether the huge investment can bring you maximum profits without losing money that you invested into it. So, if you are making any building, shop, or office space for your business, Vaastu Devayah Namah can benefit you in multiple ways. Our Vastu Consultants are aware & have rich experience in the field of architecture, construction, business, etc. Our services are rendered through our dedicated team of Vastu consultants for warehouse , each having a thorough knowledge of Vastu shastra. We offer the most advanced guidance for any kind of property development & construction project. Whether you need advice on starting a new venture or optimizing existing ones, you can definitely depend on us to improve your chances of success.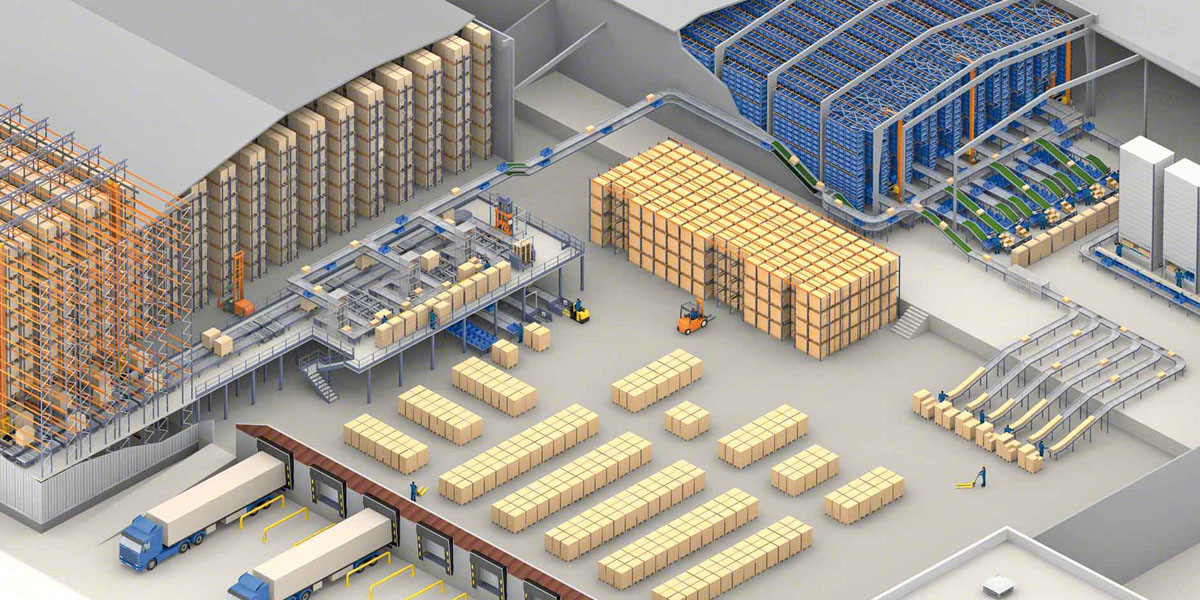 The Vastu impact to make your business last
An organized warehouse is the basis of better business. A good warehouse must keep every inventory at the right place without any waste of space, time, and energy. Everything must be arranged in a systematic manner so you can easily locate each item at your fingertips. The Vastu guidelines for warehouses are different from the ones for office spaces or residences. Here are some solar Vastu guidelines for warehouse construction, which will surely help you in planning the right warehouse. Using solar Vastu techniques for warehouse construction can help you locate the goods you need quickly.
The warehouse must be spacious, ventilated, and brightly lit. It must be designed by taking into account the Vastu guidelines for warehouses, which ensure that it is convenient and roomy and has good ventilation and illumination.
Have you been struggling with the falling sales in your business? Perhaps you have been wondering where all your money went? You wanted to get a better product that would give you a better edge over the competitors. Have you tried making more of an effort in terms of marketing? Have you ever thought of Vastu Shastra for warehouse? Yes, it is a form of feng shui that is used for space planning. This has been used for ages and ways to implement this principle have changed over time. But with us, you will get the best of Vastu for Warehouse! Visit our website to know more about our services.