What Is The Best Pooja Room Colour As Per Vastu?
It's essential to think carefully about the colour used in each room. The temple, or Pooja Ghar, is one of the most serene areas of the home, where we may sit in comfort and pray in silence.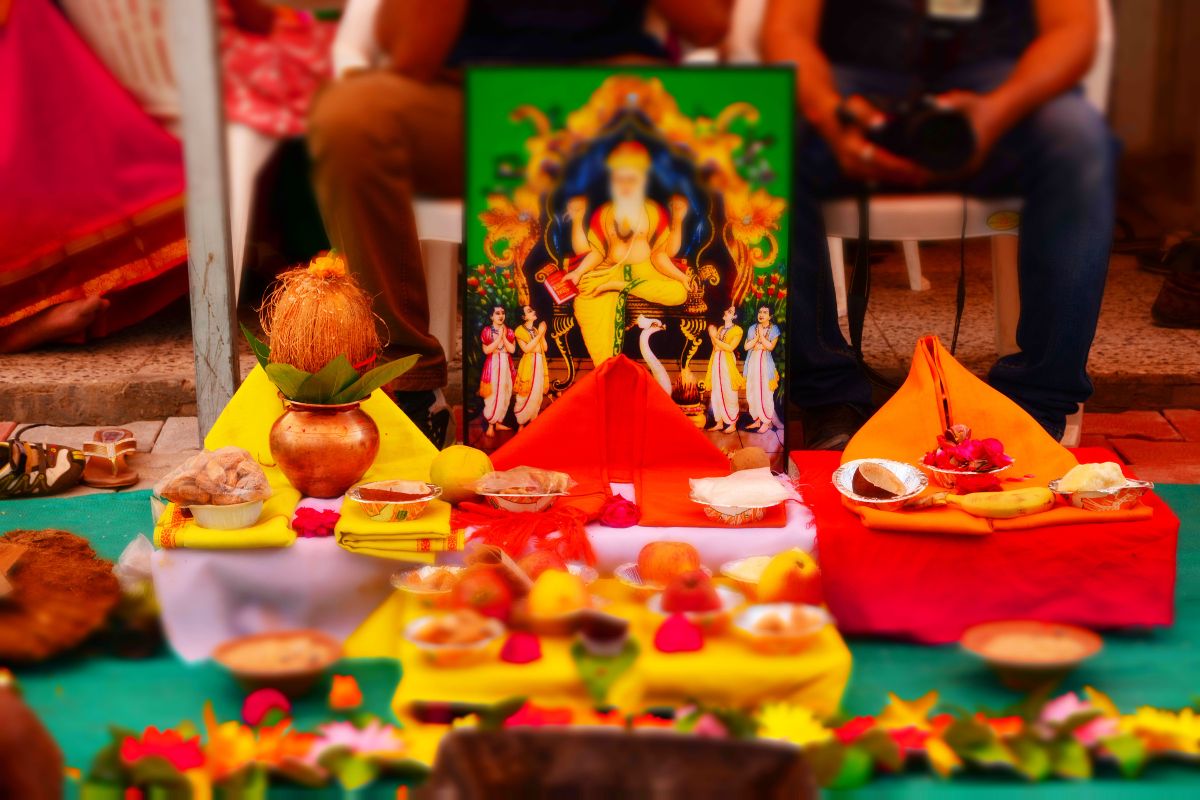 If we go to a place of worship, the good vibes will wash over us, and the bad vibes will disappear on their own. Therefore, utilising appropriate pooja room colour as per vastu in the house's worship space is critical to preserve this upbeat atmosphere according to vastu shastra consultant.
This article will concentrate on the perfect pooja room colour as per vastu. Still, it will also touch on the other valuable recommendations and advice that this ancient science gives about the construction, directions, colour, size, etc., for the other portions of your home.
According To Vastu, What Is The Best Colour for a Pooja Room ?
Blue
The colour blue evokes thoughts of power and prestige. If the pooja room is in the North-East direction of your space, blue might be pretty appealing per pooja room colour as per vastu. However, the red light indicates fire element. Introducing red colour in your pooja room in the North East direction may prove to be harmful. Painting your pooja cabinet blue or cream will give it the same cheery vibe.
Yellow
Yellow, with its muted hue, is the perfect wall colour for the pooja room's backdrop. Yellow, the "sun colour," encourages joy, hope, and the development of one's own sense of identity. The ancient Indian pooja room colour as per vastu advises positioning a pooja room that faces northeast to make the most of the sun's rays. The use of bright yellow paint colour in a pooja room aids in this ritual.
White
When considering a range of pooja room colour as per vastu, white is an excellent option for creating a soothing environment in which to meditate and commune with the divine. The cleanliness and purity that white evokes are essential to the pooja room's purpose as a place of worship. Consider installing a white or off-white marble structure or background with few or no stripes in your pooja room.
Even India's most colossal temples have embraced the trend toward white architecture. For instance, marble is a sturdy material and an excellent option for bringing a lot of tranquillity into your pooja room. In such an upbeat and optimistic setting, using white marble, the best colour for a pooja room.
Orange
The marigold is a sacred flower in India. That blossom is orange in colour. The colour orange brings a sense of good fortune to any setting. Therefore, according to the principles of Vastu Shastra, it is also the holy and best colour for a pooja room only if the pooja room is in the South-East direction.
The vibrant orange colour conveys the idea of strength and bravery that all Indian gods convey. According to the pooja room colour as per vastu, these hues encourage focus and keep it out of the pooja room.
Green
If the pooja room is in the East direction, Green pooja room colour as per vastu is a quick and easy way to calm down your nerves and bring some of the outsides inside. The splash of colour is needed to get one in the correct frame of mind for contemplation and prayer.
Colouration That's Rich And Golden
A dedicated pooja room is ideal but is not always practical. For example, if you have only a nook or a wall set aside for your pooja room, you may choose a distinct colour that is also Vastu-friendly to draw people's attention to the sacred space.
This pooja room colour as per vastu creates the optical appearance of more rooms.
Multi Colour Hues
If you are a creative person who wishes to decorate your pooja room in accordance with pooja room colour as per vastu, this multi-colour concept might be a superb solution. Through this method, you may also provide colour and life to puja rooms in the office. However, ensure that the colours are compliant as per rules of Vaastu Shastra. On the other hand, if you have a big pooja room, you may make this design concept work well by painting the remaining walls white.
Colours To Avoid In a Pooja Room
You should avoid dark, bright, and tranquil vastu colours for the pooja room or pooja unit
You should avoid colours like black, which interrupt the flow of good vibes and light
According to vastu colour for pooja room, if you want to keep the pleasant and harmonious energy flowing through your pooja room, you should avoid the use of the colour black in general,
Vastu colour for pooja room advises staying away from dark hues since they tend to bring in less positive energy. Moreover, when utilised improperly, they could make a room seem smaller and more claustrophobic. This might make it harder to enter a meditative state of mind when praying
We don't need to go into physics to understand that different colours have different energies that alter the spaces they're utilised in and the actions that take place in response to them; it's common knowledge that colours are nothing more than different vibrations of light.
According to the pooja room colour as per vastu, a pooja room has to have a nice colour on the walls and elsewhere to create an atmosphere of pure positivity that aids in the worshipping process. If you need any help regarding this, do not hesitate to get in touch with Vaastudevayah. They can surely help you to choose the best one for you.