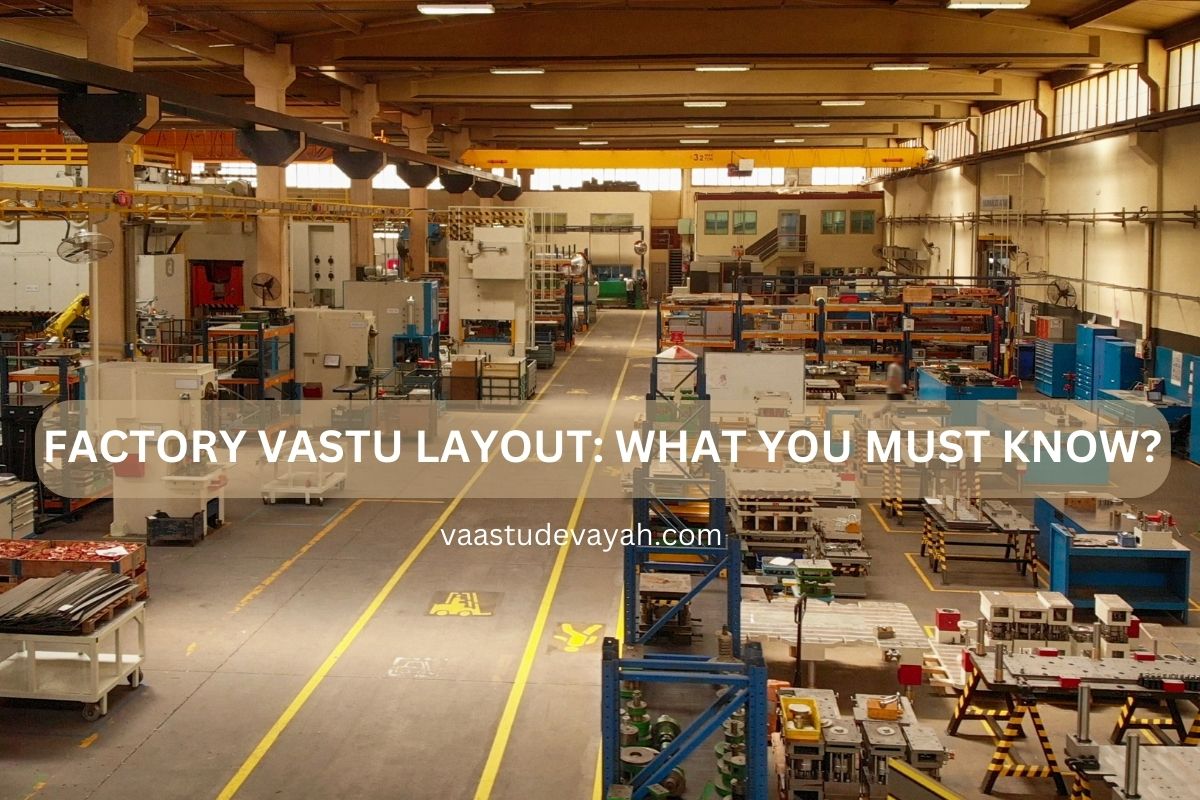 A Comprehensive Guide To Factory Vastu Layout
Over the years, there has been an explosion of interest in factory vastu layout. This is because the necessity to establish industries has increased significantly with globalisation and a fast-expanding economy. Industrial Vastu has become more popular for the same reason.
The speed of industrialisation throughout the years has been tremendous, from huge mega factories to nascent cottage enterprises.
However, not every sector has seen growth. Some factories have production issues, while others have labour disputes that never end. This is because they refuse to implement the suggestions made by vastu tips for factories.
Our blog will provide extensive discussions of factory vastu tips. For more info, read on.
The Importance Of Factory Vastu Layout In Manufacturing And Why Does It Matters?
The goal of the Vedic architectural discipline of factory vastu shastra is to ensure that the construction of any structure is in perfect equilibrium with its natural surroundings. The five elements that makeup nature are air, water, fire, Earth, and space. The goal is to design every building such that it makes the most of these five crucial aspects of Vastu. Any building, from a home to an office to a restaurant to a factory, may benefit from adhering to the factory Vastu plan.
On the other hand, using office locations in factories as per vastu may improve output and quality. The Vastu of a factory may affect things like the frequency of machine failures, the workforce quality, the number of orders received, etc.
As a result, a manufacturing facility designed in accordance with factory vastu shastra may contribute to both long-term success and financial gain.
Primary Considerations In A Manufacturing Facility's Vastu
When discussing office location in a factory as per vastu, there are several elements to include. First, many manufacturing facilities each have their unique set of Vastu guidelines. So, the Vastu of a plant that makes chemicals and the Vastu of one that makes clothes are not the same.
How Can An Industrial Shed Benefit From Vastu Principles?
Vastu tips for factory building ensures optimum output with little input. This is possible until all the moving parts of manufacturing are in unison. The goods and methods used by one sector of the economy are never quite the same as those employed by another.
It's critical to remember that every step of the manufacturing process is crucial. Some procedures, however, are more vital to some sectors than others. For the food processing business, for instance, it's the product's flavour and quality that matter most, not the packaging.
However, the design and styling phases are essential when it comes to high-end products like watches and accessories as per vastu for chemical factories.
For instance, an industrial shed that produces iron and steel requires careful planning in the zone of fire,as per south east facing factory vastu.
This is due to the fact that, according to the south east facing factory vastu, melting and heating iron is the most crucial process.
In contrast, the West and South regions of a pharmaceutical production facility's shed are critical to the product's quality as per vastu for chemical factories
As a result, it is essential to remember the principles of Vastu for a factory shed even if you are doing the Vastu for a very modest-sized manufacturing facility. This is essential for building the shed, deciding where the stairs and water features will go, assembling the equipment, organising the flow of items, and sending them out to customers.
Vastu for the factory office and Vastu for factory shed are only two aspects of industrial layout design that need careful attention.
Vastu Shastra's Emphasis On Factory Facings
Factory Vastu plan is necessary if you want to maximise productivity with little input. To get the most out of it, however, your factory's operations must be ideally in step with one another. This is because each economic sector relies on its unique methods and outputs.
Also, the Vastu principles that apply to various kinds of manufacturing facilities change depending on the nature of the facility. As a result, it is imperative that you adhere to the Vastu rules for industrial design that are applicable to the kind of factory you operate.
The production process's starting and end phases of the production process are both crucial. Nonetheless, in some fields, specific steps may be more critical than others. As a result, the toilet in factories as per vastu plays a significant part in the particular requirements of each business
Best Factory Vastu Compliant Location And Routing
Allow us to advise you on the optimal orientations and locations for the different rooms and features inside a factory, as dictated by the principles of Vastu for industrial construction.
For The Factory Shed, Slope, And Compound Wall
When planning the Vastu for the manufacturing shed, it's essential to create a slope that directs rainfall to the north or east. Also, because the shed will not absorb any solar heat thanks to its orientation toward the north, it will remain comfortably cool inside. The property continues to thrive because of the Earth's magnetic field, which flows from the southwest to the northeast.
According to Vastu, a slope that faces northeast is a good omen. Similar reasoning with Earth's magnetic field is applied.
Front Door
When evaluating the vastu for factory entrance, the direction of the main entrance is the next most crucial item to consider. This is because the Vastu of the whole factory depends on this location. Therefore, to maximise earnings, the factory's primary entrance should face east, north, or northeast and be somewhat spacious.
Make the main entrance considerably more significant and more prominent than the second entry, and utilise two doors in one of the directions described above to facilitate the rapid flow of opportunities and earnings if the factory is somewhat large. As an added measure, please remind all employees and guests to enter and exit via the main entrance as per vastu for factory entrance.
Storage Of Materials
Without its raw material, a factory cannot function. The factory's primary objective is to transform raw materials into completed products for resale on the market at a substantial profit. The southwest, the south, or the west are the ideal directions for constructing raw material storage facilities for heavy loads.
Transportable Tools
Generally, the eastern and northern sides are the most excellent options for installing lighting and ancillary equipment. Never go near the northeast, northwest, or southeast corners.
Colours
A well-known property of bright colours is their ability to reflect light in all directions, therefore filling a room with a sense of optimism as per vastu colours for factories. Likewise, colours like blue, white, and grey create an upbeat atmosphere. See the colour palette we've compiled below.
Use neutral colours like white, cream, and light yellow for walls facing Southeast, East, Northeast, and Northwest.
Any shade of green would be a good choice for the Southwest walls, which would enhance productivity in the workplace.
Vastu colours for factories advise against using bright colours like red, pink, or coral in the workplace, but if you want to, you may paint the south wall any colour you wish.
Positioning Of The Kitchen And Pantry
Every one of the factory's parts is crucial. This is something that needs careful planning and execution by Vastu principles. The south or southeast is the best direction for a kitchen in your factory layout as per vastu. Be sure to repaint the kitchen in an excellent colour like blue or black. Don't use your kitchen as a place to show off expensive tiling or granite. Consequently, it would help if you stayed away from these deep tones
Setting Up A Temple Area Within The Workplace
No matter how big or small, each industry should have a shrine on the grounds. Locate the same in the northeast corner of the manufacturing facility for the most satisfactory outcomes as per factory layout as per vastu. Lord Shiva's favour will shine upon you there since he rules over this area.
Praying often and maintaining a clean, well-lit space may improve the Vastu of your factory. In other words, it will draw in good vibes.
What Role Does Vastu Play In The Success Of A Factory?
Worldwide, manufacturing facilities are prospering. Of course, all of this is a result of commercialisation and globalisation. But the tale is significantly different from one manufacturing facility to the next.
Although some establishments are thriving and reaping substantial profits, many others are struggling and eventually having to shut down. This may seem like a mystery to others, and they may want to know why it occurs. However, several things like toilets in factories as per vastu will determine whether this is successful or not.
These include having access to high-quality inputs, receiving a steady stream of orders, operating at peak efficiency, turning out high-quality goods, getting them out the door and into customers' hands-on time, promoting teamwork and reducing conflict, and preventing mishaps.
When things go according to vastu tips for factories, a company benefits financially. But, in a similar vein, when things don't go as planned, it may lead to Vastu flaws in the production, which can cause a great deal of disruption for the company.
Use the advice of commercial Vastu experts to keep the good and bad energies in harmony. Vastu tips for factory building may guide you in deciding on the office's orientation, layout, space arrangement, guiding design concepts, and even the foundations you build on.
Frequently Asked Questions
According to the factory vastu layout, stones like granite and quartz that are easily sourced are the best options for flooring.
The best location for the factory's main entry gate is towards the east as per factory vastu layout.