How vastu shastra help to improve the relationship between husband and wife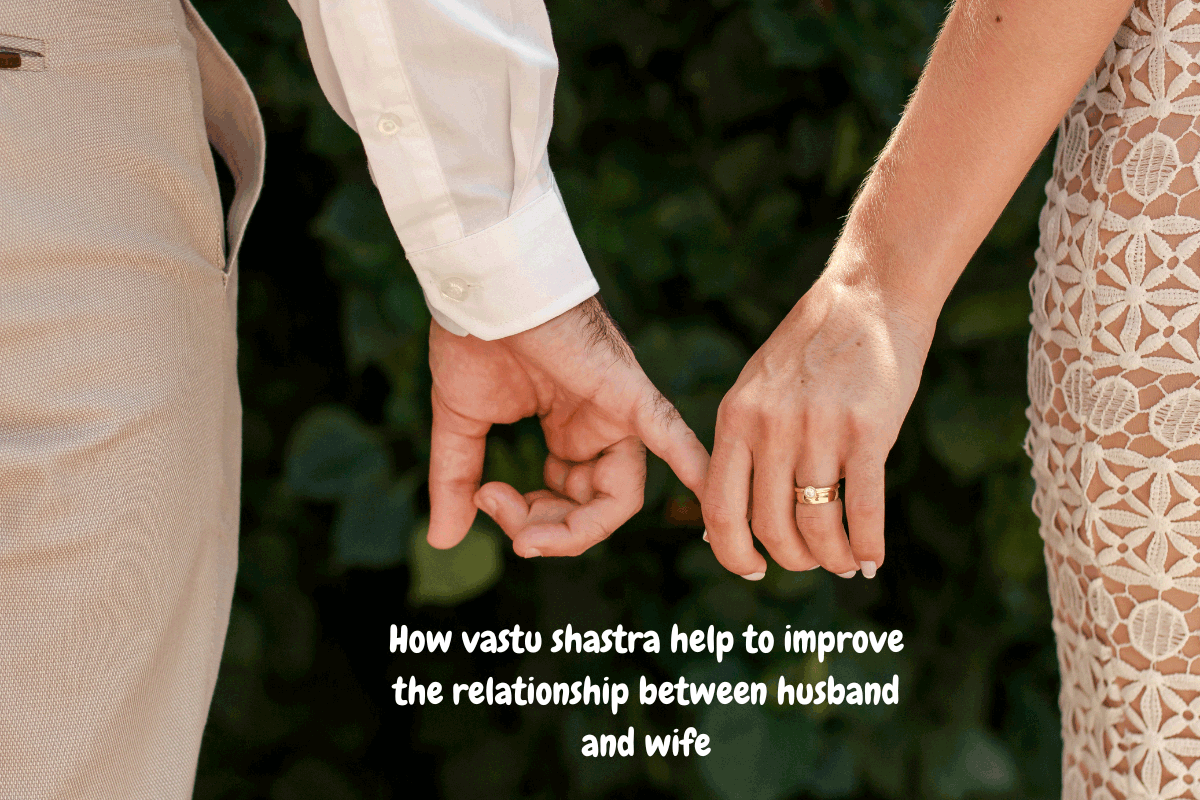 Vastu Devayah Namah has a diverse range of customers, coming in from the length and breadth of the country. We cater to all kinds of needs of the customer and provide a solution that revolves around vastu of your environment. Many people are shocked when they come to know that majority of their problems arise because of faulty vastu of your home or your office. When these customers consult us and avail our services, they are greatly satisfied with the quality of service and effectiveness of our advices.
Many people suffer through a variety of issues. Some of these issues are related to marriage, some issues are related to family, some issues are related to office, some are related business, some are related to money and some are simply related to one's mental health and peace. No matter what the problem is, our vastu experts provide outstanding and unparallel advice to our clients in such a way that they do not leave with any major concerns in their life.
When people look for vastu consultation around them, they are usually not able to find the experts around them. This is because the diversified and esteemed art of vastu is not a piece of cake. Only a few know the true and effective way of working the energies of the universe in their favor. Therefore, Vastu Devayah Namah has brought experienced and wise vastu consultants right at your doorstep. We have brought a pool of dynamic vastu experts right at your doorstep with our online vastu services.
Many a customers and clients have benefitted from these online vastu expert consultations and many are still in the process of milking maximum profits from the skill of vastu. We have at least a thousand testimonials from individuals, families, business enterprises and even big business sharks who have availed our services in the past and are now leading a happy and healthy life.
Talking of these people, it reminds me of this couple in Punjab. We recently worked on this case. You can read everything regarding that procedure in this section.
Client Concerns
An overtly luxurious and privileged young couple based in Punjab contacted us a few months ago. This couple looked content and satisfied with their marital life on the outside, but their purpose of approaching us was totally different. It was informed to us that they had been married for more than eight years, which is considered a significant time in order to construct certain emotions, intimacy and understanding between two people living together as partners. In our first meeting, this couple gave off extremely romantic and intimate reflection of a married life.
To our most absolute shock, the very first sentence that came out of their mouth was, "It has been eight years into our marriage yet we do not feel like a married couple at all." Now as a vastu consultant service, we have come across a wide variety of cases, but this one was most shocking as we could not believe our eyes and ears. Now this is the difference between other help services and our vastu experts, that we do not let our judgements mingle with our expertise and knowledge because if there is anything vastu has taught us then it is the fact that what we see is not what is always true.
The woman reported that they feel the lack of emotional connection and lost touch of patience that usually exists between a man and his wife. She further stated that marital problems are increasing in the family because of intense arguments and fights between the two. There was absolutely no agreement between the two and they fought on the smallest of things. There was a huge communication gap between the two and coexistence seemed amiss with each other's company. It felt like leading two different kinds of lives living in the same house every day. Neither of the two enjoyed the other's company and it felt terrible and pathetic.
Apart from all other problems, it was the most heartbreaking moment to realize that their marital problems were slowly becoming the reason behind their physical and emotional problems too. It is very natural for the psychological ailments to show their effects on the physical and mental aspects of our bodies. But somehow, something did not seem right. Everything was turning downhill for this beautiful couple. We were also informed that the lady had a miscarriage a few months before they decided to consult our vastu experts. This is how any perturbance or disruption in the energies of relationships and environment of nurturing a relationship can affect our lives to such a great extent.
These are just the regular marital problems that every couple face after a certain time period. But it is highly concerning when they reach this stage at a terribly young age, when they have barely been married for eight years. So, as experts we took to it to our hearts to come with the quickest and most effective solution to their problems in order to let this marriage survive and prosper in the long run. All the problems can have one assimilated solution and that is vastu shastra. Once we harmonize the energies of the house, all problems start to take care of their own. Once all the elements of the house are perfectly in sync in vastu, all other problems belittle themselves and eventually disappear on their own.
After we listened to client concerns, it was very evident that the very first problem we should be working on is patching and stitching their dismantled relationship. In order to merge these two individual lives in a stream of love and affections once again, a lot of work needed to be done. All of this was mandatory and inevitable because nothing could help them bring their marriage back to the right track, so swiftly and so smoothly.
Our Analysis
How Vaastu Devayah Experts helped enhance love between husband and wife and helped them with birth of a child after many failed attempts.
Our job was to deliver the finest solutions of the art of vastu shastra that fix the irreplaceable bond between this couple. To be very honest, it was not an easy task because it required thorough knowledge of the ancient vastu shastra and long-term experience of such challenges. But our team of vastu experts did not back down and delivered what it took to bring back the harmonious and peaceful nature of this lovely family.
A profound study by the team of our vastu experts concluded that the specific direction which is responsible to bring about amiable and amorous feelings between the couple was badly affected in their house according to the vastu. Another observation revealed that the direction which is responsible to bring about intimacy between the couple was also severely mangled as they had two toilets in this very direction in their house. Toilets are the major blocking elements of the energies of vastu. So, a toilet in this significant direction implied that the energies were completely blocked and largely affected.
Ancient scriptures say that vastu of the bedroom is critically important in determining the kind of relationship between the couple. Naturally, if the vastu of bedroom is incorrect and faulty, the type of relationship that these two shared, so strange and awkwardly distant, was no surprise to us. Now in the case of this young couple, they occupied a bedroom that was not in accordance for their age group. This minor fault in vastu of the bedroom was bringing about big disagreements and irrational arguments between the two. In a similar manner, the entrance of the bedroom was not in the direction where it was supposed to be in order to bring out maximum input and output into from this marriage.
Our team of vastu experts provided the remedial and reconstructive solutions to the couple in order to bring back the things to normal. But in addition to this, we also had to provide them a special energy counselling that was mandatory in their situation. Now the complete purpose behind this energy counselling was to reconstruct their minds and rid it off of any kind of negativity and bad energies that predominated their relationship prior to our help. This energy counselling session is conducted by our senior experts or acharyas for maximum impact on the badly affected people. This helps in clearing all kinds of blockage from their heads and let the thoughts flow like a stream.
Besides an energy counselling session, Vastu Devayah Namah also aided them with certain therapeutic procedures and other helpful remedies on how things are to be done. They were guided elaboratively about the setting of their bedroom, their sleeping arrangements and other such rearrangements in their house. As per vastu, they were recommended to add their marriage photography in certain directions in order to have the maximum positive impact on their eternal ties with each other. Some art pieces and accessories were also added in particular directions and marriage albums were moved around the house to one particular spot that was most suitable according to the vastu of their house.
The couple was directed on how they could shift the location of their toilets, change the colours of their house walls and make a few minor improvisations in the infrastructure of their house in order to bring about the maximum effectiveness of the remedial measures. Since we focus on all the non-demolition vastu techniques, keeping in interest the well-being of the customer therefore, all the possible accommodations that could be made around the house without disturbing the actual peace of the house was advised to the same couple. This is one of the unique factors and very helpful especially for those who have highly furnished apartments with high-end infrastructure and super costly architectural expenses.
Feedback of The Client
After shedding all the blood, sweat and tears over the same project, we contacted the couple after a period of forty days to ask their follow-up on the complete procedure of healing with vastu. To our utmost surprise, we witnessed that there was a complete overturn of the situation from before. The lady was eccentric and could not keep her elation inside while expressing how vastu shastra has completely changed her life within such a short span of time.
She told us that the couple has totally renewed their outlook towards their marriage and family. There were more heartful conversations and all the arguments have stopped altogether. There are no more disconnects on any topics. She quoted, "It really feels like a dream. I do not know what to call this if this is not a miracle. Just a few days ago, it was impossible to bear the sight of my husband and now I cannot seem to take my eyes off of him. It seems like the universe has finally accepted our plea and the energies have helped bring the things back on track. I am so happy I contacted Vastu Devayah Namah and availed their services because I have never felt so relaxed and at peace ever before."
All of this could have been solved way before, even before the time they started to despise each other's presence. This is how our environment, its energies and its elements can manipulate our lives in the best and the worst way possible. We only need to know the tricks and turns on how to get them working for us instead of working against us. These tricks and turns are compiled under what you can Vastu Shastra for home. You can solve all your problems in the easiest way possible, all you have to do is contact us once and we shall find the best and the most effective solutions for you.